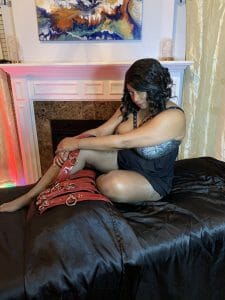 Ms. Xyliena ~ Bondassage in Atlanta, New York, Houston, Dallas
I am a Sensory Maestra, lulling you from sensory overload to sensory deprivation then letting you float into a harmonious balance.
Teleporting a person into subspace with just a whiff or touch or taste is immensely satisfying. I revel in the power and responsibility of guiding you into unrequited bliss.
Take a delightful journey to subspace.
With Bondassage® you don't have to entertain, make any decisions, or take any actions. It is an entrancing sequence that will send you into a blissful, restorative subspace, while also stimulating your endorphins.
You leave invigorated, refreshed, smiling, more awake and able to think clearly.
New York, Houston, Dallas, Atlanta
 MsXyliena@consultant.com
 409-292-5838