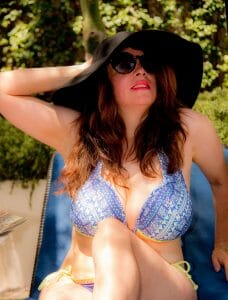 Jenna ~ Elysium in the SF Bay Area
Exquisite Elysium with Jenna
San Francisco, San Jose, Peninsula, Silicon Valley, South Bay, CA
Hello Gentlemen,
Escape into a world of tranquility. Leave your stress at the door and allow me to take you on a journey that begins with relaxation and ends in bliss. I am Jenna, an experienced masseuse. I am mature, 44 years old, friendly, petite (5'0″), college educated gal. I believe in the power of touch to help rejuvenate the body and soul. I love to massage and to be massaged. I would love to use my sensual skills on you.
Have you ever been curious about being restrained and teased? If so, you may want to try Elysium by Bondassage. Elysium incorporates devastatingly slow sensual massage with sensory deprivation and silken restraints. Lay back, relax and enjoy feeling slow, sensual touching all over your body while you are blindfolded, wearing headphones and tied to the table. Let your mind drift away and journey into your own world where time is suspended and you only feel pleasure and relaxation. Elysium will take you to the edge and then back again…over and over.
Please visit my website at www.Jennasmassage.com for more information. I look forward to getting my hands on you!
XOXO
Jenna
(650) 762-6614
Jennasnuru@gmail.com
Jennasmassage.com